A vegan creamery based in Brooklyn, New York, has sneaked into Whole Foods pizza counters. While the health-conscious grocer initially topped its vegan pies with Daiya, NUMU's dairy-free mozzarella took over nationwide. The wholesale vegan cheese business started small — NUMU sold small batches of block mozzarella to a few pizzerias in the greater New York area. After going to shreds and finding the right balance between quality and scale, the creamery won over Whole Foods enough to convince the market to make the switch. Here's how they did it.
NUMU
Late night vegan pizza craving
NUMU began as a result of founder Gunars Elmuts' search for a late-night vegan pizza in New York City. Before starting this business, Elmuts worked as a skateboard photographer and DJ. When he left work late at night hungry and craving pizza, he was often disappointed by the lack of vegan options. He also craved a quality slice at all other times of the day. "Pizza was one of the foods I missed the most when I became a vegan in 2011," Elmuts explained. "The upscale New York pizzerias I frequented weren't impressed with the offerings that were out there. [back then] so I decided to try making one that they would be ready to use in their restaurants.
At first, Elmuts went the BOYC (bring your own cheese) route. He developed a recipe for vegan mozzarella and brought little blocks to restaurants who used it to make pizza just for him. Word spread through the town and soon Elmuts was responding to requests from other chefs asking to buy his cheese. He never intended to start a vegan cheese business, but he decided to focus on mozzarella for pizza. "I had to figure out how to produce mozzarella commercially. It was a steep learning curve," says Elmuts.
Scaling
The NUMU you'll enjoy on your Whole Foods slice today isn't quite like the original product. Elmuts has spent more than a year receiving feedback from New York pizza makers who have started offering it as an option in their restaurants. The goal was to perfect the product, so Elmuts avoided retail and focused on wholesale. He trusted the professionals to offer constructive criticism, and after hiring a team of experts, he was able to take that feedback and produce NUMU on a larger scale, resulting in increased sales to pizzerias. more independent and eventually Whole Foods.
"Our goal is to make a vegan option the norm for all places that serve pizza," Elmuts explained. "Like cafes now, we hope the dairy-free cheese option will be automatic for everyone."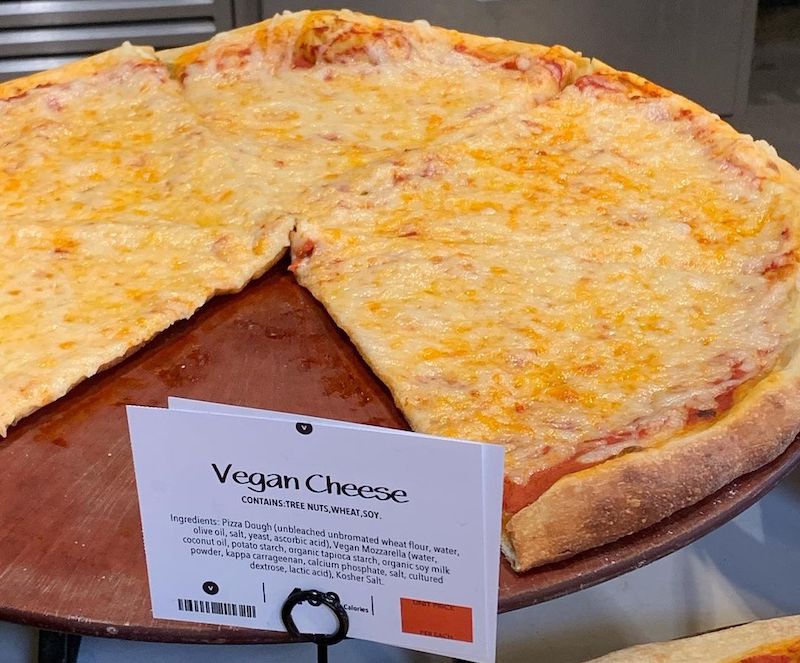 NUMU
What's in NUMU?
Like many other plant-based cheeses, NUMU is made with a combination of non-GMO coconut oil, potato starch, tapioca starch, and a few other ingredients. For a wide audience, the cheese is nut-free and all ingredients are kosher certified. Elmuts said he was looking for a mild flavor with no aftertaste. He was also adamant about texture. "The texture is clean, it's not gummy and doesn't stick to your teeth."
Ways to use NUMU
Anyone visiting a Whole Foods pizzeria can now order a plant-based pie with NUMU at no additional cost. However, we couldn't help but drool over the creative ways some chefs are using this vegan mozzarella beyond pizza. Prior to the rise of Omicron, Michelin-rated Xilonen in Brooklyn's Greenpoint neighborhood moved away from classic Italian dishes and used NUMU in a variety of its vegan Mexican dishes. Think plant-based egg tostadas topped with a dollop of melty mozz, vegan birria tacos made with grilled NUMU and mushrooms, and vegan fajita quesadillas with cheese. Willow, a vegan comfort food restaurant in Chelsea, makes its truffle macaroni and cheese, eggplant lasagna and French onion soup with lots of NUMU. Vegan on the Fly, a Midtown Manhattan joint, makes vegan pizza empanadas with NUMU. It's a culinary mix that we can't wait to try.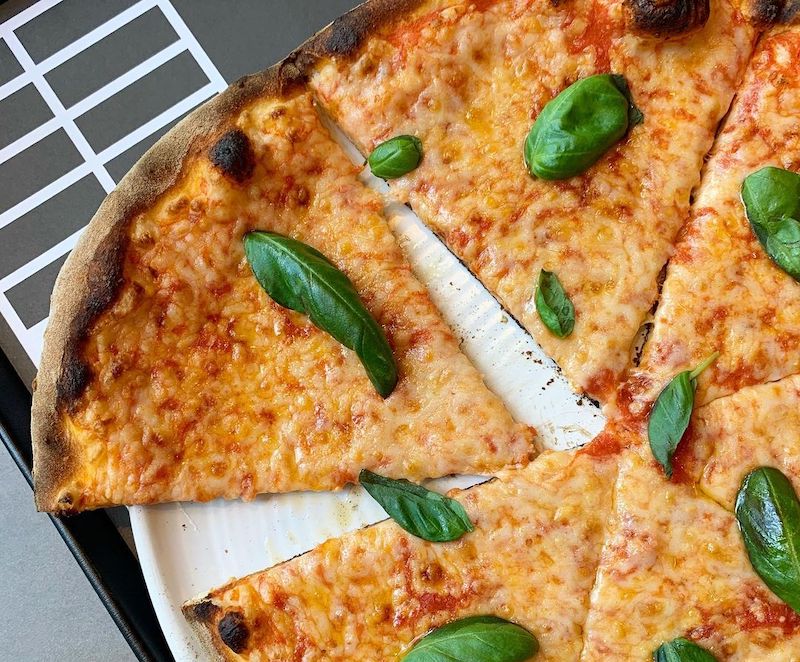 NUMU
The best vegan pizza
It's pretty clear that Elmuts lives for a slice of quality vegan pizza. We had to ask him how he takes it. "A slice of plain cheese is always my favorite, but my favorite toppings are usually red onion and mushrooms. Outside of Whole Foods, I think the addition of Be-Hive Pepperoni and/or Abbot's Butcher Chorizo ​​are amazing vegan meat options," Elmuts said.
Whole Foods Vegan Collaborations
NUMU isn't the only vegan company to land a major Whole Foods hot bar deal. In 2017, plant-based sashimi brand Ocean Hugger launched its tomato-based tuna in more than 40 Whole Foods sushi counters. In 2019, Whole Foods launched vegan breakfast sandwiches made with JUST eggs in 63 locations. Additionally, Whole Foods hot bars in select locations have been adorned with chafing trays filled with chef Ayinde Howell's vegan Mac and Yease. For the past two years (and hopefully many more to come), we've trusted Whole Foods for our holiday catering. The brand has teamed up with chef Chloe Coscarelli to develop vegan holiday meals that include main dishes, plenty of sides and desserts. Convenience-packed options aside, Whole Foods has become a mecca for plant-based products lining shelves and freezer aisles. From Maxine's Heavenly Cookies to Pizza Plant's frozen pizzas and Sweet Loren's cookie dough, there's always a new vegan product to try.
Want your local pizzeria to sell NUMU? Ask them to contact [email protected]. As Elmuts said, non-dairy milk is the norm in cafes; vegan cheese should be a given in pizzerias.
For more on vegan pizza, check out these articles:
Trader Joe's just launched a vegan pizza for meat lovers
How to Order Vegan Pizza at Pizza Hut
MOD Pizza adds vegan meat and it's not over the top or impossible
JUST LAUNCHED! Vote for your favorite vegan products in the 2022 VegNews Veggie Awards.
Vote now
JUST LAUNCHED! Vote for your favorite vegan products in the 2022 VegNews Veggie Awards.
Vote now