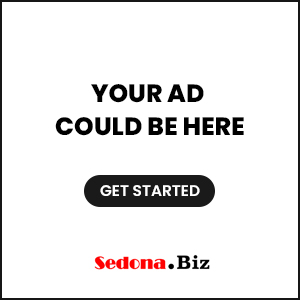 Sedona News: Lisa Dahl of Sedona has opened a new pizzeria called Pisa Lisa in the Village of Oak Creek.
The grand opening began with Sedona Chamber of Commerce President Michelle Conway and Chef Lisa Dahl cutting a ribbon of pizza dough. A spontaneous drumming circle led by Sabrina Sandoval magically prepared the crowd for Sedona's spiritual shaman, Jeva Uqualla. His uplifting message reminded everyone to come from the bottom of their hearts on our March for the Earth. The ceremony ended with the unveiling of their spacecraft and its ET pilot.
This off-world weekend, the Mystical Pizza Festival embraces the spiritual nature of Sedona by combining both spiritual and physical food.
Click below to watch the video.
The celebration will take place at Sedona Vista Village in the Village of Oak Creek from 11 a.m. to 6 p.m. Saturday and Sunday, September 17 and 18.
Soul healing exhibits will nurture the soul including psychic readings, magicians, sound healing, crystal healing, giant pizza photo shoots, pet massages, chair massages, red light healings and more. Those who want to peek into their future can have tarot cards and psychic readings.
Doggie Reiki and massages promise soothing relief for your hair as well as Lisa Pisa's wonderful dog meatballs.
Michael Steele's magic tricks will delight the kid in all of us.
Don't forget to try the free hourly gelato and pizza samples throughout the event.
Lisa Pisa 6623 AZ-179, Sedona, AZ 86351 • (928) 284-3616 • LisaPisa.com